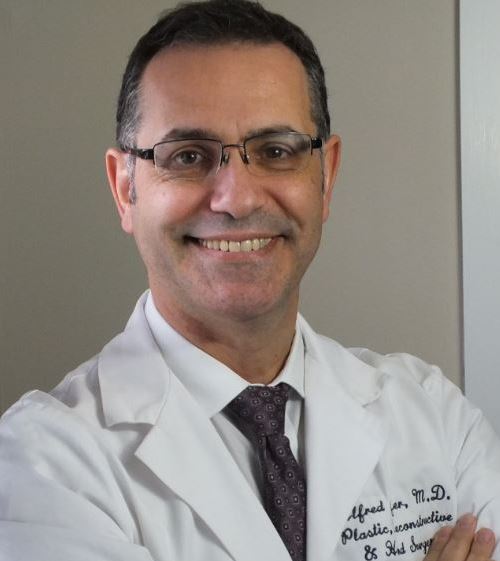 Alfred Sofer M.D.

Plastic Surgery Center of Fairfield
Fairfield Liposuction
Call (203) 408-6402
Plastic Surgeon with 15 Years of Experience
Dr. Sofer is a board-certified plastic surgeon serving various communities around Fairfield, including Darien, Westport, Norwalk, and Stamford, CT. His passion for artistic creativity, science and technology led him to the field of plastic surgery. A perfectionist and problem solver, he craves challenge and takes great pride in developing innovative, nuanced surgical techniques. Dr. Sofer combines his surgical expertise, inventive insight, and novel technologies to achieve expert, artistic and natural-looking results for his patients.
Dr. Sofer founded the Plastic Surgery Center of Fairfield based on three simple pledges:
Treat patients with kindness, respect, honesty and unparalleled professionalism.
Implement innovative technologies and creative insights that achieve artistic, natural-looking results, while keeping safety the top priority.
Be available for clients 24 hours a day, 7 days a week, 365 days a year — always.
About Plastic Surgery Center of Fairfield
Plastic Surgery Center of Fairfield is an established practice known for providing compassionate care and exquisite results. Dr. Sofer specializes in cosmetic and reconstructive plastic surgery, cosmetic medicine, and non-surgical aesthetic procedures. Our philosophy focuses on empowering you to play an active role in your cosmetic treatment plan so that we can better understand your goals and you can enjoy more satisfying results.
Mission
Our mission is to provide an innovative approach to beauty by understanding and responding to the needs of our patients, promoting a higher quality of life and well-being. We will exceed expectations with an enhanced focus on service delivery and operational excellence that will provide the highest satisfaction and ongoing value in the industry.
Vision
Plastic Surgery Center of Fairfield strives to provide comprehensive, quality medical services to individuals who want a close, collaborative relationship with their surgical or med spa treatment provider. We are dedicated to providing unparalleled customer service for a health care experience of the highest caliber.
Values
The values that drive our practice are:
Quality – We deliver the highest quality of care to our patients. We commit to delivering to the highest of standards.
Respect – We know that you have specific goals for your treatment. Our practice prides itself on understanding each person's needs and expectations for their care. Customizing your aesthetic program and treating you as a unique individual is our priority.
Trust – We conduct all of our interactions with patients in a way that is respectful of the trust that our patients have placed with us.  We protect patient information and provide feedback in ways that are sensitive to the patient's personal situation.
Safety – We know that health care experiences are not eagerly anticipated.  Therefore, we do all that we can to reduce the inconvenience, alleviate the fear and to build strong and trusting relationships with our patients to ensure that their care is delivered according to the highest standards of safety.
33 Miller Street
Fairfield, CT 06824
Brazilian Butt Lift
Fat Transplantation
Liposuction
Hospital
State Licensed And/Or Approved Medical Surgical Facility
Liposuction plus General Anesthesia + Tumescent Local Anesthesia
Incisions Are Closed With Stitches
Abdomen
Ankles
Anterior Thighs
Arms
Back
Breasts
Buttocks
Calves
Circumferential Thighs
Face
Flanks
Hips
Inner Knees
Inner Thighs
Knees
Legs
Neck
Waist
Medical Degree – Albany Medical, 1993
Undergraduate Degree – Columbia University
St. Vincent's Medical Center, Bridgeport, CT — Chief of Plastic Surgery
Norwalk Hospital, Norwalk, CT
Stamford Hospital, Stamford, CT
Surgical Center of Connecticut, Bridgeport, CT — Board of Directors
Member of the American Society of Plastic Surgeons
Member of the American College of Surgeons
Member of the American Medical Association
Member of Connecticut Medical Society
Member of Fairfield Medical Society