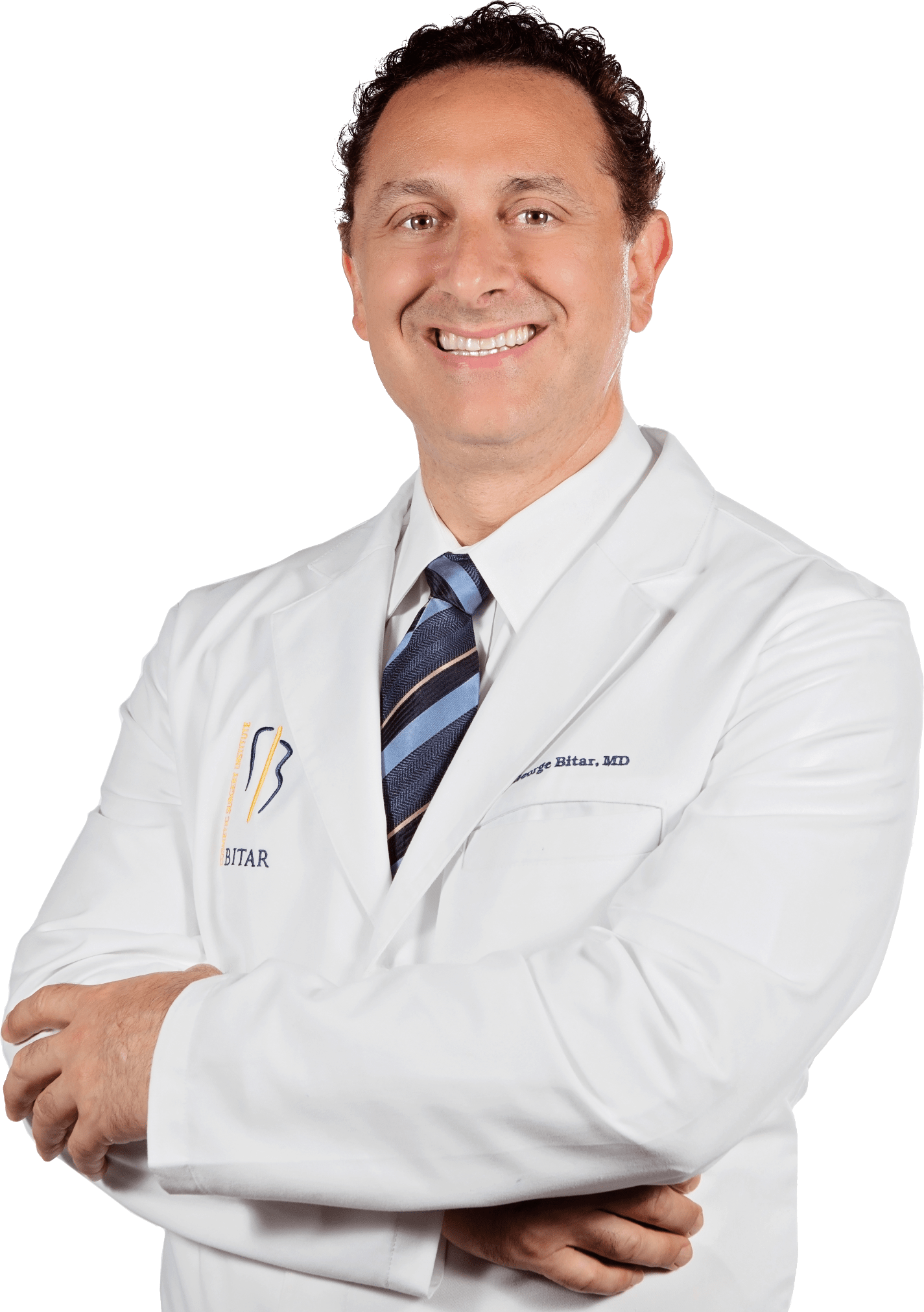 George Bitar M.D., F.A.C.S

Bitar Cosmetic Surgery Institute
Montegomery County Liposuction, Manassas, VA Liposculpture
Board Certified Plastic Surgeon
Call 703-997-6845 to schedule a consultation. 
Dr. George J. Bitar, FACS is a fellowship-trained, board-certified plastic surgeon and medical director of the Bitar Cosmetic Surgery Institute. He is an accomplished artist and an innovative expert in the field of aesthetic surgery. He has performed over 5,000 cosmetic facial, rhinoplasty, breast, and body surgeries including advanced corrective cosmetic procedures for patients unhappy with surgeries performed elsewhere.
An innovator in the field of plastic surgery, Dr. Bitar has been featured as an expert on cosmetic surgery on various television and radio programs, has lectured extensively, and has authored peer reviewed plastic surgery articles, chapters in plastic surgery textbooks, and is currently co-authoring a textbook on neck-lift surgery. His goal is to give his valued patients a natural look with minimal pain, minimal downtime, and minimal scars such as with the latest FDA approved no-downtime Laser Tight™laser liposuction, as well as non-surgical facelifts with injectables and the Fractional COlaser, virtually scarless breast augmentations, six pack abdominal etching, and the non-surgical 2 Bitar Hand Rejuvenation Treatment™. He enjoys helping patients who have lost a significant amount of weight and offers those patients the full range of body contouring procedures.
Schedule a personal consultation with Dr. Bitar today!
A graduate of the George Washington University School of Medicine, Dr. Bitar subsequently completed a general surgery residency at the Albert Einstein Medical Center and a plastic surgery residency at the University of Virginia. He finished a prestigious cosmetic fellowship at the Charlotte Plastic Surgery Center and later trained with very prominent plastic surgeons in New York, Beverly Hills, Rio de Janeiro, and Paris. He is a member of the American Society of Aesthetic Plastic Surgery and has been named "Top Doctor" by Washingtonian Magazine 2005-2010, "Top Plastic Surgeon" by Northern Virginia Magazine, Health & Beauty Magazine, and Consumers' Research Council of America. He is a visiting lecturer at the University of Virginia and teaches plastic surgery residents at INOVA Fairfax Hospital, where he also operates.
Laser Tight Liposuction
What is Laser Tight Liposuction?
Laser tight is a revolutionary technique for laser assisted liposuction which uses a special laser that melts the fat cells before suctioning them out and tightens the skin at the same time. By melting the fat before suctioning, the procedure results in minimal swelling, bruising and pain and can be done under local anesthesia in our office. Most Laser Tight patients have returned to work the next day!
How is Laser Tight different than Laser Lipo?
Laser Tight uses a revolutionary 980nano meter laser which is designed to tighten the skin as it suctions out the fat.
Laser Tight can also be used to suction fat from very small areas, such as the lower eyelid while performing an eyelid lift. Before and after pictures of a male patient who has undergone lower eyelid lifts with laser tight is shown to the right.
Is Laser Tight right for me?
Laser tight is perfect for patients who would like to have about 1-2 lbs of fat removed, have little loose skin and cannot afford much down time. The procedure takes about 1-2 hours to perform under local anesthesia in our office.
Is Laser Tight FDA Cleared?
LaserTight has several FDA clearances for uses in plastic surgery, dermatology, general surgery, and ophthalmology. It is currently the only laser cleared by the FDA for performing lower eyelid lifts (blepharoplasty)
Testimonials
"I came to see Dr. Bitar to get a Tummy Tuck and Liposuction on my stomach, hips, inner and outer thighs, and buttocks. I went from a size 12 to a size 8. I had a flabby tummy due to pregnancy, and now it is flat and firm. My thighs are smaller and shapelier. I am more confident in my looks and can't wait to have my next surgery.
I have loved dealing with Dr. Bitar. He is so kind and checked on me often to make sure I was feeling okay. Dr. Bitar is very patient oriented and meticulous in his work. His staff is wonderful and friendly."
–M.V.D.
"I came to see Dr. Bitar for a Tummy tuck and Liposuction to reduce my waistline and hips. My results are outstanding. The surgery reduced my stomach and hips significantly and I went from a size 14 to a size 10.
The surgery has given me an outstanding look at life and made me more confident as a person. I feel better at work and when in the public at special engagements.
Dr. Bitar and the office staff are friendly and understanding."
-S.J.M.
"I sought out Dr. Bitar and two other plastic surgeons after losing 95 pounds from a gastric bypass. I told them I wanted perky breasts, a flat stomach and some liposuction on my saddlebag hips. Dr. Bitar spent a lot of time with me on that first consult, answering all my stupid questions, and his staff won me over. Pat and Ann were very attentive, helpful and patient. They were the icing on the cake I needed to make my decision.
I had surgery on June 4th and went from a sagging E/F cup to a large C. I have perky breasts for the first time in over 30 years. I don't have to tuck my t-shirt up under my breast to absorb the sweat and I don't flop and jiggle all over the place. I can wear spaghetti strap camisoles with the shelf bra and it doesn't look like one continuous boob across my front.
As for my stomach, it's flatter than I can ever remember and I don't have the saddlebags on my hips. I can wear sexy underwear and it's actually sexy on me.
I went to my 30-year high school reunion and everyone was telling me, I hadn't aged a bit. Thanks to Mom for my great skin, Dr Anez for my bypass and, finally, Dr. Bitar for the icing."
-K.C.B.
"What sets Dr. Bitar apart from all the others is his sincere dedication to the patient combined with an artistic and tireless vision of how he can help you achieve your cosmetic objectives.
There is a distinct sense that your surgery has been absolutely personalized just for you and that he's as committed to your concerns as you are. There is not a lot of undue favoring on the results as much as objective analysis of a job well-done and, perhaps more importantly, attendant to the patient's own analysis.
Dr. Bitar performed full body liposuction on me and my results are outstanding! Rather than just reducing my overall size, as one might expect with weight loss, the procedure truly altered my shape in subtle but significant ways. It actually reduced my clothing size more than had I lost a lot more weight. The strategic reduction of fat made all the difference.
I am in a high-visibility job, often on camera and always in front of people. By feeling as if I look better, and more like my 'old-self,' I feel a lot more confident in how I look. But more importantly, I feel happier with the image the public sees now. In my business, first-impressions are often all you get so it's critical that that impression is a favorable one.
Dr. Bitar and his staff are simply wonderful. He takes the time to get to know you and really discuss options in a non-threatening and very relaxed environment. He's always responsive to inquiries throughout the process and his staff went way out of their way to accommodate me… They are truly a sincere and dedicated group of professionals that feel like family friends.
When you consider something as serious as invasive elective surgery, you want to feel confident that your doctor and his staff are absolute professionals. But you also want to feel like they are warm, caring people who really do care about you and your results too. Unquestionably, you can find the nexus of these two criteria in Dr. Bitar and I would whole-heartedly recommend him to any family member or friend seeking cosmetic surgery."
-M.L.C.
Why Choose Us
1
It's All About You
Our commitment to excellence and exceptional patient care is in every step of your doctor-patient experience, and we take pride in this! Cosmetic surgery should be a happy experience, but a serious one nonetheless. You will meet with our premier providers and consult our team at your consultation. Generally, two appointments are scheduled before surgery to discuss what procedure is suitable for you, explain the risks, benefits, alternatives, and to answer all your questions. Then you are encouraged to be seen by your own doctor to give the green light for surgery. Before you commit, you are given the opportunity to talk to patients who have had the same surgery you are considering. If you are convinced and excited to proceed, the doctor will perform your surgery, and then we will see you shortly after the surgery (in a day or two usually). You are seen regularly after your surgery and are welcome to come back for follow-up, even years after your surgery, free of charge. Revision surgeries will be determined on a case-by-case basis (fees may be applicable).
2
Patient Education and Confidentiality is a Priority
What makes us an "institute" rather than a medical private practice is the human and educational resources we put at the service of our patients. Feel free to check out for dates of upcoming seminars, information about our institute as well as the various cosmetic procedures, downloading our newsletters, reading the latest press releases, viewing "Before and After Photos" of operations similar to the ones which you are contemplating, and also to contact us for a quick response to your questions or to book a consultation. Bitar Institute has an informative newsletter about the latest in cosmetic surgery and med-spa services. We participate in various seminars, magazines, newspapers, TV, and radio shows throughout the community to educate the public. Lastly, your confidentiality is of utmost importance; we understand the delicate nature of the decision to undergo a cosmetic procedure and your right to privacy.
3
Friendly and Skilled Staff
Our staff is highly-trained, educated, experienced, compassionate, and puts you, the patient, first. The combined years of experience in patient care, education, cosmetic surgery, skin care, and the field of beauty will put you at ease and increase your confidence and trust in achieving your non-surgical, as well as surgical goals. We specialize in the field of cosmetic surgery, and as a result, our efforts all go into creating an atmosphere that puts our patients at ease.
4
Highly Specialized Cosmetic Surgeons
Dr. George Bitar is an award-winning board-certified cosmetic and reconstructive plastic surgeon and member of the prestigious American Society of Plastic Surgery (ASPS), the only plastic surgery credentialing organization recognized by the American Medical Association (AMA). He is also a member of the Faculty of the American College of Surgeons (FACS). He has trained with some of the top cosmetic surgeons in the world in Brazil, France, and the USA before he founded the Bitar Cosmetic Surgery Institute. Dr. Bitar is on the advisory board of Plastic Surgery Products magazine, staying on top of the latest trends, techniques, and procedures in the world of cosmetic surgery. He is currently the co-author of a chapter in a book on neck lifts and another chapter in a book on breast augmentation. He is also co-authoring a book on Neck lifts, and another book on "Cosmetic Surgery Around the World." His commitment to patient care has led to naming him as one of the Washington DC's "Top Doctors" by the Washingtonian magazine, Northern Virginia Magazine, Health and Beauty magazine the Consumers Research Council of America.
Trained in some of the world's foremost medical institutions, Dr. Larry Lickstein is bringing topnotch knowledge and experience into the Bitar Institute. He keeps abreast in the latest advances in plastic surgery techniques for face and body. Dr. Lickstein graduated at the top of his class in both Princeton University and New York University School of Medicine. He finished his surgical residency at the prestigious Harvard Medical School and eventually named chief resident in the Department of Surgery. He underwent his fellowship training at one of the oldest and largest academic plastic surgery departments in the country – the University of Pittsburgh. He became a member of the Department of Plastic Surgery at the nationally recognized Cleveland Clinic Florida in Naples, FL. He was practicing in Baltimore, MD prior to joining the Bitar Institute.
5
Comprehensive and Unique Diversity of Services
Our affiliation with several medspas and physicians in the DC area enables us to offer or recommend a vast array of medical, spa, and med-spa services, ranging from massage therapy and physical fitness to lasers, hair transplantation, and cosmetic dentistry. We offer services that are diverse: the full spectrum of cosmetic surgery, both face, body, and rhinoplasties, the full spectrum of skin care services and products, the latest FDA approved injectables (Restylane®, Restylane Lyft, Juvéderm®, Radiesse®, and the ever popular Botox®). We also have estheticians who are licensed to perform spa to medical aesthetic skin care services.
6
Convenient Hours, Locations and 24/7 Access to Your Physician
The Bitar Cosmetic Surgery Institute is geared towards patient needs and accommodating to their schedules like no other, with offices in Manassas and Fairfax, and offers regular evening and weekend hours. For your added convenience, you also have direct access to Dr. Bitar's and Dr. Lickstein's cell phone numbers.
7
Safety is a Priority
A vast number of our procedures are done at INOVA Fairfax Hospital, which has been named one of the top 50 hospitals in the USA by the U.S. News & World Report. We also perform surgery at INOVA Fairfax, INOVA Woodburn and Novant UVA Haymarket Surgery Centers. For your convenience, we also offer surgery in the comfort of our office under local anesthesia. These first class teams with whom our doctors operate with are registered nurses and board-certified anesthesiologists who have many years of experience treating cosmetic surgery patients. Dr. Bitar is the lead author of an article on guidelines of safety in plastic surgery anesthesia, and he lectures on the safety and efficacy of various cosmetic surgery techniques. Both Dr. Bitar and Dr. Lickstein have a passion for patient safety, which ensures a safe and successful surgery for every patient.
8
Modern Luxury
Designed by award-winning architecture group, FORMA, our patients experience modern luxury with every visit. Our offices in Fairfax and Manassas accommodate a large reception area, a series of exam rooms, a relaxing skincare room, and a comfortable cosmetic surgery procedure room, as well as private offices for the surgeon and patient care personnel. FORMA's modern design earned a 2011 Fairfax County Exceptional Design Award and the project was featured in the Summer 2016 issue of METRO ARCHITECT. All artwork displayed is by Dr. George Bitar.
9
Advanced Skincare Techniques
One of Bitar Institute's goals is to provide our patients with the best care possible by offering the latest advancements in skincare technology. We pay special attention to each individual's need when selecting a treatment. By using state-of-the art skincare technologies, our skincare specialists are able to optimize each treatment plan. Additionally, we have carefully selected quality medical grade skincare products for every skin type. Our highly trained Licensed Medical Estheticans offer consultations and will thoroughly examine your skin before treatment and offer a customized skincare plan.
10
Community Involvement
Bitar Institute is heavily involved in the community's well-being, and our philosophy is embodied in Winston Churchill's quote, "You make a living by what you take, but you make a life by what you give." Dr. Bitar has enjoyed going on operative missions to perform pro-bono work in third world countries. Dr. Bitar and his wife, Rima, were the 2008 CARE celebration co-chairs, and he was also named the "National Man of the Year" by the Leukemia and Lymphoma Society for the fundraising efforts of the Bitar Institute. Bitar Cosmetic Surgery Institute supports charities including CARE, Hoop Dreams Scholarship Fund, Second Chance Employment Services, and the Renee Mouawad Foundation.
Our Institute also offers internships to students in the community who are pre-med, nursing, medical students and Plastic Surgery residents. This competitive program gives students from various disciplines the opportunity to learn about the delivery of Cosmetic Surgery services, participate in clinical research projects, and to observe in-office and hospital-based procedures.
Cosmetic Surgery for Men
Men's reasons for having aesthetic surgery are to become more attractive, to look less "tired," to be able to better compete in the workplace by improving their looks and self esteem. In fact,25% of surgical patients at the Bitar Cosmetic Surgery Institute are men, as compared to the 11% national average. The first step for a man is to consult with a board -certified plastic surgeon to discuss the procedure he is seeking with its risks, benefits, and expected outcome. Ask to see before-and-after photos of men who have had procedures similar to the ones you are discussing, and ask to talk to some of these men. Three of the procedures frequently sought by men are explored here.
Financing Available:


8650 Sudley Road Ste. 203
Manassas, VA 22031
Abdomen
Anterior Thighs
Arms
Back
Buttocks
Chin/Cheeks/Jowls
Fat Transplantation
Female Breast Reduction
Hips and Waists
Inner Thighs
Knees
Legs/Calves/Ankles
Male Breast Reduction
Males Flanks
Neck
Outer Thighs
Hospital
Office Surgical Facility
Liposuction plus General Anesthesia
Oral Sedatives plus Tumescent Technique
1 to 2 mm round holes
3 to 4 mm linear incisions