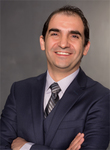 Kamran Azad M.D.

Athenix Body Sculpting Institute
Athenix Liposuction in Pasadena, CA
FREE consultation Call 626-400-5541
Liposuction Specialist serving the Pasadena area
Medically Advanced. Naturally You.
Dr. Kamran Azad is one of the few plastic surgeons in Southern California with additional aesthetic fellowship training. Dr. Azad specializes in Aesthetic Surgery of the breast, and body in Southern California. After graduating summa cum laude from the University of California – Irvine, Dr. Azad received a Masters Degree in Science, Applied Physiology from Rosalind Franklin University in North Chicago, Illinois. Dr. Azad was awarded his medical degree at the Chicago Medical School where he graduated in the top 10% of his class. He was a candidate for the Alpha Omega Alpha Honor Medical Society for outstanding academic achievement.
Dr. Azad completed his residency in General Surgery at Westchester Medical Center in Valhalla, New York, serving as Chief Resident his final year. He then was selected to complete his Plastic Surgery residency at the Albert Einstein/Montefiore Medical Center in New York under the direction of Dr. Mark Sultan, Dr. Mark Smith, and Dr. Joseph Shin, one of the most rigorous and prestigious plastic surgery training programs in the Northeast. While in New York, Dr. Azad was afforded the opportunity to learn from numerous international leaders in both reconstructive and cosmetic surgery.
Dr. Azad chose to pursue a full year of additional training, focused exclusively on Cosmetic Surgery. He was selected to attend one of the most prestigious fellowship programs in Aesthetic Surgery at the Plastic Surgery Center in Sacramento, under the direction of Dr. Scott Green, Dr. Wayne Yamahata, and Dr. Debra Johnson. During this year, Dr. Azad enjoyed the opportunity to hone his skills in what is considered to be one of the highest volume cosmetic surgery practice in the United States. There he was trained in the most advanced aesthetic surgical techniques of the face, breast and body – a skill set that he brings to each and every one of his patients.
Dr. Azad is currently a candidate for membership in the American Society for Aesthetic Plastic Surgery (ASAPS) and a candidate for membership in the American Society of Plastic Surgeons (ASPS). He is also affiliated with Alvarado Hospital in San Diego, CA.
Perhaps the most important qualification of Dr. Azad is his compassion and keen awareness that communication of expectations is of great importance. As an Aesthetic plastic surgeon, you not only have to have great technical skills, vast knowledge of the anatomy, and the principles of plastic surgery, you also have to be able to develop a relationship with the patient by listening to their needs, gaining their trust, and being there for them throughout the entire process.
Financing Options:
We provide our patients with custom financing solutions in order to achieve the look you've always wanted now. Our financing programs begin with no upfront payment. You may choose from several popular plans which allow you to finance your new look over 12 to 60 months with payments as low as $73 per month. During your consultation our Patient Care Consultant will help you apply for the financing. In many cases approvals are instant and your Patient Care Consultant can assist you in scheduling your procedure during your first visit with us.
No down payments
Instant approvals
Monthly payments as low as $73/month
150 E Colorado Blvd., Suite 102
Pasadena, CA 91105
Abdomen
Anterior Thighs
Arms
Back
Buttocks
Chin/Cheeks/Jowls
Fat Transplantation
Female Breast Reduction
Hips and Waists
Inner Thighs
Knees
Legs/Calves/Ankles
Male Breast Reduction
Males Flanks
Neck
Outer Thighs
Oral Sedatives plus Tumescent Technique