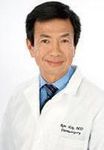 Ronald L. Moy, M.D. —

Moy Dermatology Cosmetic Surgery & Skin Care
Beverly Hills Liposuction, Southern California Cosmetic Surgeon
Call 310-846-8463
Board Certified Dermatologist, Cosmetic Surgeon Specialist
Member, Liposuction.com Editorial Board
Welcome to Moy Cosmetic Laser Surgery. We are pleased that you have chosen us to assist you with your cosmetic surgery and dermasurgery needs. Moy Cosmetic Laser Surgery offers proven state of the art therapies for skin cancer and cosmetic surgery skin care treatments and the highest standards of personal and professional care. We aim to provide our patients with the most effective and advanced treatments possible.
Tumescent Liposuction
Tumescent Liposuction under local anesthesia
The Tumescent liposection procedure is a "State of the art surgery" for the removal of localized fat cells. Liposuction surgery is performed to remove unwanted localized deposits of fat cells from the body. The procedure is meant for body contouring, not treatment of obesity.
Who are the best candidates?
Patients who are:
healthy individuals with firm and elastic skin
inability to loose the fatty bulges despite exercises and weight management strategies
stubborn "love handles" or other fatty deposit areas
understand liposuction can contour physical areas but is not a substitute for weight loss or management
What areas can be treated by Liposuction?
Men
hip area or the "love handles"
abdominal area
neck and jowl area
Women
hip area or the "love handles"
buttocks
abdominal or stomach areas
thighs, knees
cheeks, double chins or jowl area
In some cases, our women patients to use their fatty tissue for lipo-augmentations in order to rejuvenate volume loss on their face.
FAT TRANSFER
Fat transfer to the face is a safe, natural and non-allergenic procedure designed to re contour your face as well as provide definition to your cheeks and chin. Transfers replace volume and fat to make your face fuller to reduce lines and sagging. It can also be used to correct facial deformities. Since fat transfers use your own cells, you can never have an allergic reaction, because it's from your own body.
How Does Fat Transfer Work?
By using Fat Transfers, Dr. Moy enhances and rejuvenates his patients. Fat Transfer allows Dr. Moy is use a patient's own fat to treat desired areas. The procedure is completely natural thus eliminates any allergic reactions. Fat Transfers can enhance a patient's facial contours naturally by filling in our patients hollowed eye or cheeks. Fat transfer to the hands are also a popular procedure.
What are the benefits of this procedure?
Fat Transfers can have a prolonged effect lasting approximately 3 years. This is a very natural procedure without any risk of an allergic reaction. And best of all, it is extremely cost effective when performed with another cosmetic procedure.
Minamally Invasive Procedures
The minimal incision facelift is ideal for the patients who have jowls and loosening of the lower face without severe loose skin of the neck. The minimal incision lift can be performed under local anesthesia or under twilight sedation and takes about 2 hours to perform.
The minimal incisions create less starring. I have not had patients complain of scarring with this procedure. I also orient the tightening in an upward direction so that it always loks natural and improves the neck. If someone does have a lot of loose neck skin than a neck lift will be required with an incision behind the ear and into the hairline. I have also performed an isolated neck lift on patients who only complain of neck sagging. My facelifts look natural because I do not pull excessively in a sideways direction( the wind tunnel effect). I also use the lasers to "iron out wrinkle lines" so I do not have to rely on excessive pulling.
Meet The Doctor
Dr. Moy
Dr. Moy has practiced cosmetic and skin surgery on more than 25,000 cases of Mohs micrographic surgery and facial plastic surgery throughout the past twenty-five years. He practices at The Rodeo Collection in a federally approved ambulatory surgery center. The ambulatory surgery center contains the latest monitoring anesthesia equipment and the latest cosmetic lasers.
Dr. Moy is one of the leading Cosmetic and Plastic Surgeons in Los Angeles, California, Board Certified in Dermatology and Mohs Surgery specializing in Cosmetic & Plastic Surgery, Face Lifts, Liposuction, Laser Skin Resurfacing and Sclerotherapy.
Dr. Moy is nationally renowned for his work and has been elected to the Board of Directors of more than five national organizations. Dr. Moy has been named as "One of the Best Doctors in America" in the 1999 edition of The Best Doctors in America. Dr. Moy has been featured in the November 2001 issue of Health Magazine.
421 N. Rodeo Drive, North
Beverly Hills , CA 90210
Abdomen
Anterior Thighs
Arms
Back
Chin/Cheeks/Jowls
Fat Transplantation
Hips and Waists
Inner Thighs
Knees
Legs/Calves/Ankles
Male Breast Reduction
Neck
Outer Thighs
Accredited Office Surgical Facility
Office Surgical Facility
IV Analgesia/Sedation and Tumescent Technique
Medical School:
Albany Medical College, 1981
Residency:
UCLA, Los Angeles, CA
Dermatology and Dermatologic Plastic Surgery, 1985
Fellowship:
UCLA, Los Angeles, CA
Dermatologic Plastic Surgery, 1986
1996 Named in Best Doctors of America for "Skin Cancer and Reconstruction" and "Aesthetic Surgery"
1996 Elected, President-Elect, Los Angeles County Medical Association, Bay District
1996 Editor-in-Chief of Dermatologic Surgery by the American Society for Dermatologic Surgery
1995 Elected to serve as Dermatology Section Assistant Secretary for California Medical Association
1994 Chairperson, 11th Regional Conference of Dermatology, Free Paper Session, Singapore
Rennselaer Polytechnic Institute, B.S. Biology, 1977
President of ASDS in 2004-2005
Board Certified in Dermatology, Mohs Surgery and Cosmetic Surgery
Member of the American Academy of Facial Plastic Surgery
University of Pittsburgh Center for Health Sciences
University Center for the Health Sciences Montefiore Hospital, Mohs Micrographic Surgery
UCLA, Dermatologic Plastic Surgery, 1986
American Board of Dermatology
Mohs Surgery and Cosmetic Surgery
Member of the American Academy of Facial Plastic Surgery
President of ASDS in 2004-2005
President, American Academy of Dermatology 2011
President of the Division of Medical Quality, Medical Board of California 2005
Fellow of the American Academy of Cosmetic Surgery
Professor, UCLA Medical School
Former Co-Chief of the UCLA division of Dermatology, and Chief of Dermatologic Surgery
Editor-in-Chief of the Dermatologic Surgery Journal
Former President of Los Angeles County Medical Association, Bay District
President of the American Society for Dermatologic Surgery, 2001
Skin Surgery A Practical Guide by Richard Usatine, MD, Ronald L. Moy, MD, Edward Tobinick, MD, Daniel Siegel, MD.
Mosby, 1998
Ethnic Skin Medical and Surgical by Bernett L. Johnson, Jr, MD, Ronald L. Moy, MD and Gary White, MD
Mosby, 1998
Practical Management of Skin Cancer by Ronald L. Moy, MD, Daniel Taheri, MD, Ariel Ostad, MD
Lippincott-Raven, 1999
Text Atlas of Wound Management Contributor Ronald L. Moy, MD.
Martin Dunitz, 2000
Advance Face Lifting Editor, Ronald L. Moy, MD Elsevier Sauders, 2007
Blepharoplasty, Editor, Ronald L. Moy Elsevier Sauders, 2007
*The list above is just a short list of publications that Dr. Moy has received authorships, editorships and contributions