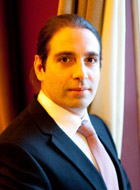 M.R. Khalifeh M.D.

DC Cosmetics
Laser Liposuction Expert in Washington DC and Maryland
Complimentary Consultation Call 301-761-5994
Johns Hopkins Trained, Award Winning, Board Certified
Dr. Khalifeh now performs the majority of his cases using Awake Laser Liposuction Technique. He does offer traditional liposuction and Power assisted liposuction (micro-aire) under general anesthesia for high volume cases and for combination makeover cases where liposuction is combined with other procedures. Ultimately, because he is board certified in plastic surgery, he is able to discuss all techniques with the patient and help the patient choose the best technique to achieve her or his desired results.
Laser Liposuction Interview

Dr. Marwan Khalifeh is co-founder and senior partner at Ivy Plastic Surgery Associates, a private plastic surgery partnership dedicated to offering patients the latest and safest cosmetic and reconstructive plastic surgery techniques.
Dr. Marwan Khalifeh completed six years of his surgical training at Johns Hopkins University, a top rated School of Medicine in the American College of Graduate Medical Education accredited Plastic Surgery Program. After graduating, he was appointed Instructor in the department of plastic surgery at the Johns Hopkins University and spends two days each week instructing upcoming surgeons in the art of science of reconstructive and cosmetic plastic surgery. He is both a speaker and an author of several research papers and book chapters in the field of Plastic Surgery.
Dr. Khalifeh earned his medical doctorate degree from the Vanderbilt University School of Medicine, where he earned numerous awards including the Top Spear award in human physiology and was elected by his graduating class to the prestigious Alpha Omega Alpha honor medical society.
Dr. Khalifeh spent his undergraduate years in Philadelphia, where he attended the University of Pennsylvania and the Wharton School, earning a Bachelors of Arts in Biology and a Bacherlor of Science in Economics. He graduated Summa Cum Laude and earned the Phi Beta Kappa distinction.
Testimonials
When you choose a liposuction surgeon, it is important to know that patients are pleased with their results and with the service and treatment they have received.
Here are just a few of the many thoughtful patient testimonials we have received.
We hope that reading real testimonials from real patients will help you decide to contact Dr. Khalifeh and find out how he can help you enhance your natural beauty and achieve the look of your dreams.
5454 Wisconsin Avenue
Chevy Chase, MD 22102
Undergraduate
1991-1995 UNIVERSITY OF PENNSYLVANIA – Philadelphia, Pennsylvania
B.S. Finance
B.A. Biological Basis of Behavior
Summa cum laude
Phi Beta Kappa
Graduate
1996-2000 VANDERBILT UNIVERSITY SCHOOL OF MEDICINE – Nashville, Tennessee
Medical Doctorate Degree
Alpha Omega Alpha
Postdoctoral
2000-2004 THE JOHNS HOPKINS HOSPITAL – Baltimore, Maryland
General Surgery (John L. Cameron, M.D.)
2004-2006 THE JOHNS HOPKINS HOSPITAL THE UNIVERSITY OF MARYLAND – Baltimore, Maryland
Plastic Surgery Residency (Paul N. Manson, M.D., Nelson H. Goldberg, M.D.)
Sibley Memorial Hospital
Suburban Hospital
Assistant Professor at Johns Hopkins Hospital
American Society of Plastic Surgeons
Khalifeh M, Redett R, The management of patients on anticoagulants prior to cutaneous surgery: case report of a thromboembolic complication, review of the literature, and evidence-based recommendations.
Plast Reconstr Surg. 2006 Oct;118(5):110e-117e
Buck DW 2nd, Khalifeh M, Redett RJ, Plastic surgery repair of abdominal wall and pelvic floor defects.
Urol Oncol. 2007 Mar-Apr;25(2):160-4.